CALIFORNIA AHEC PROGRAM OFFICE

The California Area Health Education Center (AHEC) is located at the University of California, San Francisco, School of Medicine's Fresno Medical Education Program.
Click here to view the California Statewide AHEC Brochure.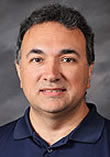 Ivan Gomez, MD – Program Director and Principal Investigator
Dr. Gomez is the current Program Director for the California Area Health Education Center (AHEC) through UCSF Fresno's Medical Education Program. Dr. Gomez is also the Chief of UCSF Fresno Family and Community Medicine. He completed his residency with UC Davis Family Medicine Program in Merced, California. He is particularly involved in family-oriented adult and pediatric HIV/AIDS care and is currently the Medical Director of the Pacific AIDS Education Training Center in the San Joaquin Valley. Dr. Gomez's other clinical interests include obstetrics and inpatient medicine. Dr. Gomez precepts and provides clinical care at a UCSF rural site in Selma and is an Advisory Faculty for the Advanced Life Support in Obstetrics course held yearly at UCSF Fresno.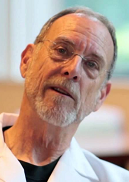 H. John Blossom, MD – Past Program Director
Dr. Blossom is the previous Program Director and a board certified family physician with many years of experience working in CHCs. He is an Emeritus Professor of Clinical Family & Community Medicine at UCSF Fresno and works regularly in CHCs in the Fresno area. Dr. Blossom is a member of several workforce collaboratives both in the state of California and nationally, including the HRSA Bureau of Health Professions and Bureau of Primary Care taskforce on workforce in CHCs. In addition to directing the AHEC, he founded the California Preparedness Education Network and has directed the disaster preparedness training activities in underserved areas since 2003.
Juan David Garza, MA – Associate Program Director
Virginia Fowkes, FNP, MHS – Evaluation and Strategic Planning Director
Trina Hughes – AHEC Scholars Coordinator
Carmen Vargas, Administrative Assistant